· What is trailer type lighting tower?
A trailer type lighting tower is a mobile lighting system that is mounted on a trailer for easy transportation and mobility.
· What is trailer type lighting tower used for?
Trailer lighting towers are commonly used for outdoor applications such as construction sites, outdoor events, emergency response situations, and other situations that require mobile and flexible temporary lighting.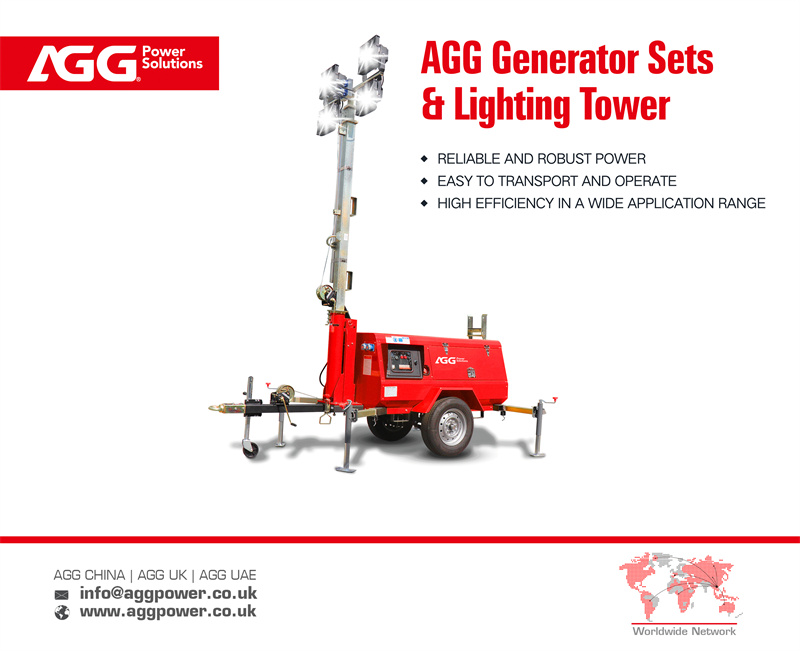 The lighting towers, including trailer types, are generally fitted with a vertical mast with multiple high-powered lights above and can be extended to achieve maximum illumination and lighting zone. They may be powered by a generator, battery, or solar panels and often come equipped with features such as adjustable height, remote control, and automatic on/off functions. The key benefits of trailer type lighting towers are that they offer a reliable source of light in remote or off-grid locations, they can be quickly and easily deployed, and they are highly efficient for large area lighting applications.
· About AGG
As a multinational company, AGG focuses on the design, manufacture and distribution of power generation systems and advanced energy solutions.
AGG has been strictly following the requirements of ISO, CE and other international standards to develop production processes and actively bringing in advanced equipment to improve product quality and enhance production efficiency, and eventually provide high-quality products and services to its customers.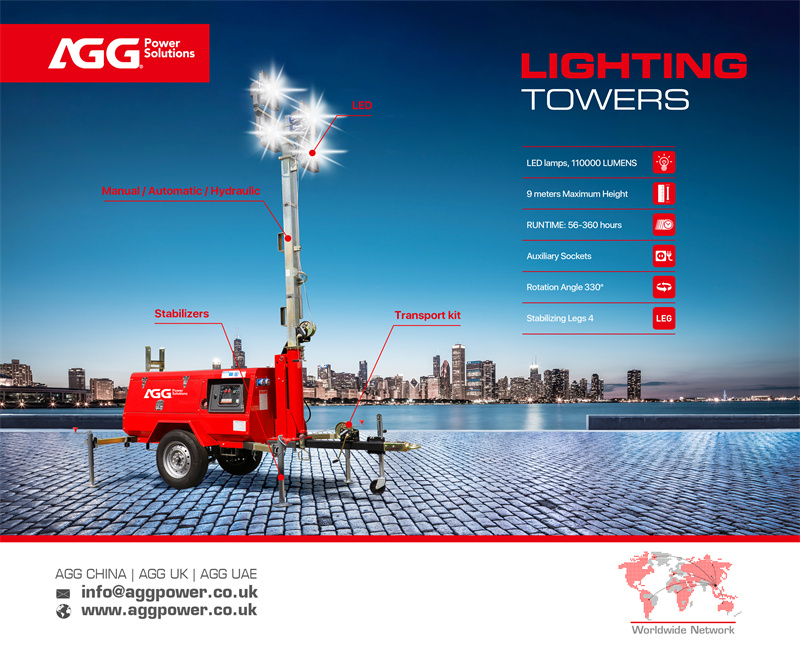 · Worldwide distribution and service network
AGG has a network of dealers and distributors in more than 80 countries, supplying more than 50,000 generator sets to customers in a variety of locations. A global network of more than 300 dealers gives AGG's customers confidence in knowing that the support and services it provides are within reach.
· AGG lighting tower
AGG lighting tower range is designed to provide a safe, stable, and high-quality lighting solution for various of applications. AGG has provided flexible and reliable lighting solutions for a wide range of industries around the world, and has been recognized by its customers for efficiency and high safety.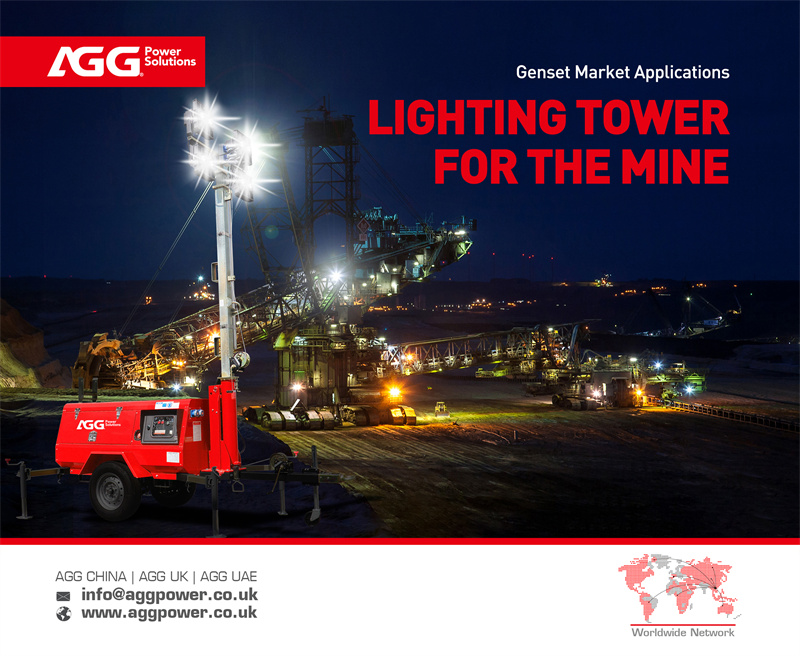 Every project is special. Therefore, AGG understands the importance of providing our customers with an efficient, reliable, professional, and customized power supply service. No matter how complex and challenging the project or environment, AGG's engineer team and its local distributors will do their utmost to respond quickly to customer's power needs, targeting the design of products, manufacture, and installation of the right power system.
AGG customized power solutions:
https://www.aggpower.com/customized-solution/
AGG successful project cases:
https://www.aggpower.com/news_catalog/case-studies/
---
Post time: May-11-2023