Exclusive dealer on Mercado Libre! We are pleased to announce that AGG generator sets are now available on Mercado Libre!
We have recently signed an exclusive distribution agreement with our dealer EURO MAK, C.A, authorizing them to sell AGG diesel generator set products on the Mercado libre platform. The store name is: AGG Tienda Oficial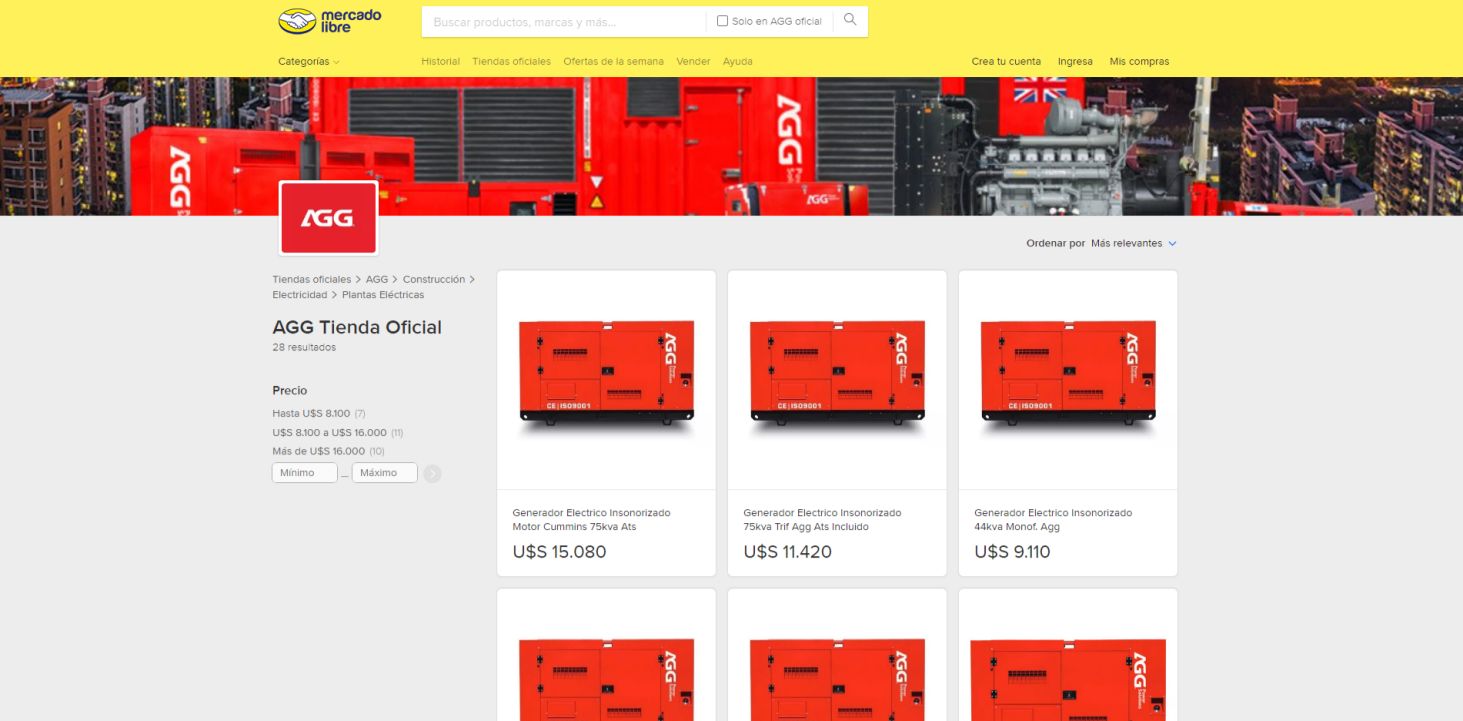 As AGG's dealer in Venezuela, EURO MAK, C.A is a company with over 45 years of experience in the supply of high-quality equipment. In addition to selling products from leading brands, they also provide a qualified technical service for advice, selection, and maintenance service. By participating in equipment commissioning, maintenance courses and field assistance, they maintain a close and continuous after-sales relationship with end users.
Through our dealership with EURO MAK, C.A, we believe that the presence of AGG generator sets in Mercado Libre will provide better access and service to our customers in the Venezuelan region and provide local stock of AGG diesel generator sets for faster delivery.
If you are in need of reliable and fast-delivered generator set products in the region, please feel free to click on the store link and talk to our dealers!
----  ----  ----
AGG is committed to providing quality products and services to meet or even exceed our customers' expectation.
Over the years, AGG has developed production processes in strict accordance with the requirements of international standards such as ISO and CE, and actively introduced advanced equipment to improve product quality and production efficiency. We have also established a scientific and comprehensive quality management system, with detailed testing and recording of key quality control points during the production of our products, controlling the entire production process and achieving traceability at every stage of production. Ultimately, our customers receive satisfactory and quality products.
With a dealer and distributor network present in over 80 countries with more than 50,000 generator sets, AGG has the ability to deliver its products quickly and efficiently to customers in every corner of the globe. The fast delivery times and service make AGG a popular choice among applications that require reliable power solutions.
In addition, AGG places great importance on customer support and after-sales service. We understand that downtime can be costly for business owners, which is why AGG has expanded its dealer and distribution network and provides fast and efficient support and service to ensure that the fastest possible support is given to customers and that AGG products are always running at peak performance.
If you would like to become a dealer of AGG or find out about the nearest AGG dealer in your area, please feel free to contact us via email info@aggpower.com.
---
Post time: Apr-14-2023